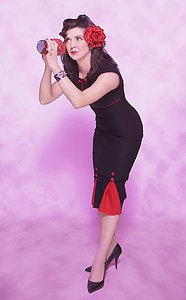 Thank you for visiting
Carolee J. Friday, Fine Art Photography
Fine Art Photography is my passion. It is my calling. I create powerful images; photographs that show beauty, even in the common things of life.
I have been a Fine Art Photographer in the Santa Fe and northern New Mexico communities since 2010. My photographic career began with a 35mm camera and a traditional darkroom. However, I have since discovered the artistic nuances of a digital SLR and the digital archival darkroom. I use only archival printing processes and materials in all work.
A student/performing artist of Mexican folklórico dance and a past Santa Fe Fiesta Queen, I believe my Hispanic heritage, culture and faith are vital to my art--both performance and visual.
I hold Bachelor of Arts degrees in Spanish and Political Science from the University of New Mexico and a Masters of Business Administration with a concentration in Accounting from the University of Phoenix. So where did Photography come from? Well, from my soul. And from my husband who encourages me to follow my artistic dreams.
I have studied Photography under local greats such as Diane DiRoberto, Siegfried Halus and Krista Elrick. I am a proud artist of Contemporary Hispanic Market and a member of the Royal Photographic Society.